'Liquid Shard' art installation makes waves in Pershing Square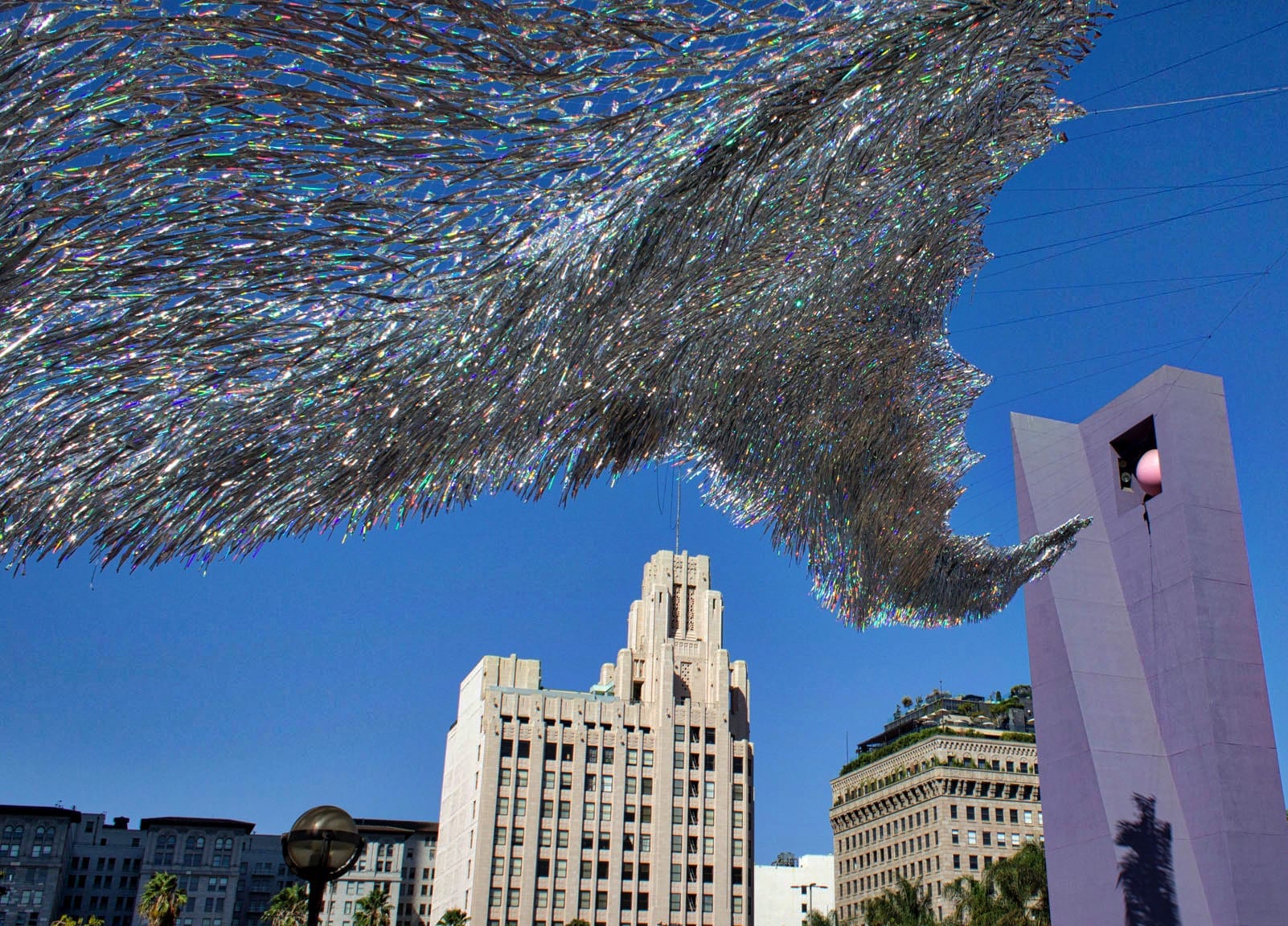 A Suspended sea of delicate silver strands ripples over Pershing Square and casts moving shadows over pedestrians who pass underneath.
The "Liquid Shard" art installation, made from holographic mylar and monofilament, stretches 15,000 sq ft. across the park and rises and falls like a mystical giant, slithering through the wind.
Designed and built by artist Patrick Shearn, the new installation has become an instant hit, mesmerizing downtown residents, office workers and tourists alike, while spawning thousands of posts on social media. The exhibit is part of an on-going effort by the city of Los Angeles to support public art displays.
"Not exactly sure what it is, why it's here or who put it there but Pershing Square was shimmering today," said nkao in an Instagram post..
In another post, danaworkman said, "The real magic happens when the wind kicks up, launching it into a beautiful rolling wave across #pershingsquare."
Representatives from the Los Angeles Recreation and Parks Department and Now Art LA, a non-profit group that curates public art throughout the city, originally approached Shearn with the idea to create an installation for the centrally located public park.
"We wanted to have the piece in downtown LA, to showcase it in a space where there are a lot of people gathering, and where it would have a strong architectural and spacial impact," said Carmen Zella, co-founder of Now Art LA. "Pershing Square was the perfect fit."
Shearn collaborated with twelve students attending the Architectural Association Visiting School during a 10-day design workshop. The students, from 18 to 22-years-old, represented countries from around the globe, including Turkey, Kuwait, Egypt, China and Korea.
The team used 3-D computer modeling to assess how the structure would hang and move in the space. They then worked to construct their design from material that Shearn had previously spent weeks putting together — attaching thousands of metallic strips to a grid of high-tech fiber rope and bungee cords.
Read more: http://www.latimes.com/local/lanow/la-me-ln-liquid-shard-20160804-snap-story.html