Coachella 2015: Giant butterfly greets fans a day early during second weekend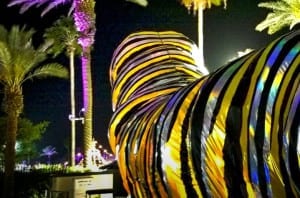 INDIO >> With the big reveal of the giant butterfly during the first weekend of the Coachella Valley Music & Arts Festival, attendees during this weekend were eagerly waiting to greet the large moving piece of art in person.
Well, the wait is over.
Festivalgoers on Saturday were finally able to meet Papilio Merraculous, a day earlier than first weekend attendees when it rolled out during the last day of the fest.
Karina Lingesso, 21, of Ventura said she was pleased she would be able to have the butterfly around for two days this weekend.
"It's crazy that they did this. I saw the video that they were doing something amazing and this lives up to that," she said, staring up to the colorful butterfly. "This is so gorgeous. The caterpillar to butterfly is really cool that they did that."
The stunning new moving art piece by the Los Angeles-based art collective known as Poetic Kinetics.
Papilio Merraculous was created to help bring awareness to the declining monarch butterfly population, said Patrick Shearn, president of Poetic Kinetics.
"Every year 1.5 million acres of monarch habitat are destroyed. An area equal to the size of the Coachella Polo Field x 7,500," according to Poetic Kinetics.