Coachella 2014: Visual Artists That Rocked the Festival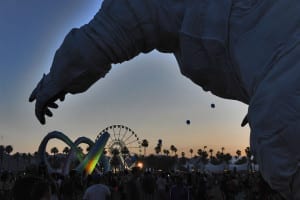 Interactivity and approachability defined the Coachella experience this year, as far as art is concerned. Large-scale pieces such as James Peterson's "Cryochrome," Phillip K. Smith III's "Reflection Field," Alexis Rochas' "Lightweaver" and Poetic Kinetic's "Escape Velocity" all engaged with the crowd of roughly 100,000 excited festivalgoers and the vast, expansive desert landscape that they inhabited in Indio, Calif.
One of the most attention-grabbing pieces gracing the polo field was Poetic Kinetic's "Escape Velocity," the follow-up to last year's now Internet-famous "Helix Poeticus," aka #CoachellaSnail. This year marks Poetic Kinetic's third piece at Coachella. "Escape Velocity" is a 36′ tall x 57′ long x 40′ wide mobile astronaut. One moment the astronaut could be seen near the Main Stage, and later that day, you could find it over by the Gobi tent.
PHOTOS: The Scene at Coachella 2014
During the day, the astronaut roamed the festival grounds, offset by a beautiful desert background and completely impressive in size. But nighttime is when the astronaut really came alive with its three video systems: facial recognition, which allows viewers to project their face in the visor of the astronaut's helmet; a reflection camera, taken from the point of view of the astronaut, capturing the people below; the video stream is delayed by three or four seconds to add an additional layer to play with; and footage that Poetic Kinetics collected beforehand, which includes planets, both beautiful and destroyed.
Patrick Shearn, co-owner of Poetic Kinetics and designer of "Escape Velocity" noted the approachability, verticality (many broke the skyline) and spectacle of many works.