Coachella Preview with Poetic Kinetics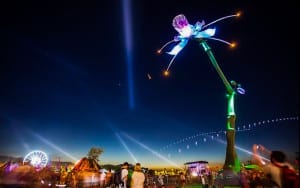 Posted by Cartwheel Art on April 1, 2014 in Artist Interviews & Studio Visits, MAGAZINE
This year marks the 16th anniversary of the Coachella Valley Music and Arts Festival, which runs April 11-13 and April 18-20 where thousands of fans from around the world will attend in celebration of today's best in music and art. Ever since the inaugural festival in 1999 at the Empire Polo Club  in Indio, CA, Coachella has been home to thousands of musicians and visual artists. The electrifying scene at Coachella is a natural location for the installation designers of Poetic Kinetics.
Poetic Kinetics was formed by a group of artists who focus on large scaled art installations, experiential designs and performance productions. They are based in Los Angeles, CA, and they hold extreme value in the exploration of technology.
This year, Poetic Kinetics will be showcasing a new top-secret design to be unveiled on Coachella's opening day. The installation will be available throughout both weekends of the three-day music and arts festival.
In the past they have been the masterminds behind Helix Poeticus, the giant snail at Coachella 2013, and Solitary Inflorescence, Coachella's giant animatronic orchid.
Poetic Kinetics' work has been featured at festivals, events, and in public spaces worldwide. They have an impressive list of past clients that includes Insomniac Events, Electric Daisy Carnival, Goldenvoice Events, Coachella Valley Music & Arts Festival, Toyota Camry Creative Solutions, the 2008 Beijing Olympic Games, and Burning Man Arts Festival.
The creator and producer Patrick Shearn gave us a quick email interview about the creative process of Poetic Kinetics.